I still have demons. We all do. But I refuse to let them control who I am.
-CHRIS VAN ETTEN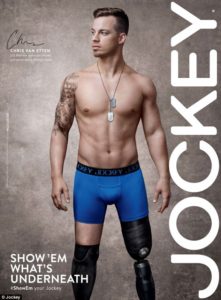 No doubt about it. Chris Van Etten is good-looking. But his good looks almost pale in comparison to his character.
A Marine, motivational speaker and model, Chris has a story to tell. It's a story about perseverance in the face of adversity and his journey with PTSD.
In 2012, while deployed in Afghanistan, Chris stepped on an IED. The explosion took both of his legs and the life of his best friend.
After recovering from his physical injuries, Chris turned to exercise with the hope of regaining strength and mental stability. He admits to going down a dark road like many other veterans, but he made a decision not to let emotional distress define him.
There's more to Chris' story, but you'll have to wait until the release of Unusual Darkness to hear it.
For us, it's both an honor and a privilege to be working with Chris.